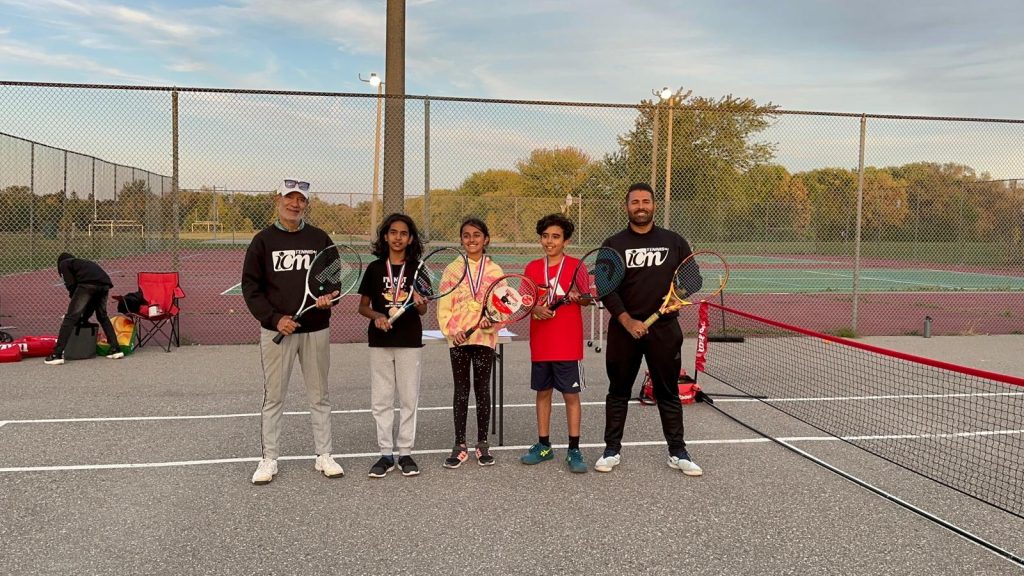 Promoting Tennis Skills and Sportsmanship Among Kids Age 9-12
Oshawa, Sep 27th, 2023- ICM Tennis, a leading tennis academy dedicated to nurturing young talent, recently organized an exhilarating tennis tournament exclusively for children aged 9-12 years old. The event, held on September 27th, showcased the remarkable skills and enthusiasm of the young participants.
The primary objective of the tournament was to provide a platform for budding tennis players to showcase their abilities, foster healthy competition, and instill a love for the sport at an early age. The event attracted a significant number of young athletes, all eager to demonstrate their prowess on the court.
After a day filled with intense matches and impressive displays of talent, three exceptional players emerged as the winners, earning well-deserved recognition in the form of medals and exciting prizes.
Tabishi, a young prodigy, claimed the coveted first-place position 🥇. Demonstrating exceptional skill and determination, Tanishi was awarded the gold medal, symbolizing their outstanding performance.
Eric, another promising player, secured the second-place position 🥈. Eric's impressive display of talent earned them the silver medal, acknowledging their remarkable achievements.
Charvitha, a talented young athlete, secured the third-place position 🥉. Charvith's dedication and hard work were recognized with the bronze medal, symbolizing their commendable performance.
The tournament not only provided an opportunity for young players to compete but also served as a platform for them to learn valuable lessons in sportsmanship, teamwork, and perseverance. The event was a resounding success, leaving participants, parents, and organizers alike thrilled with the outcome.
As ICM Tennis Team, we are immensely proud of the young athletes who participated in the tournament. Their passion for the sport and dedication to honing their skills is truly inspiring. ICM Tennis remains committed to nurturing and developing young talent, and events like these are a testament to our ongoing efforts.
We extend our heartfelt congratulations to Tanishi, Eric, and Charvitha for their exceptional performances and well-deserved victories. We are confident that these young athletes have a bright future ahead in the world of tennis.