MIKE TAHERI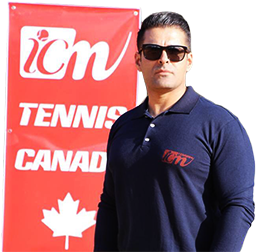 PhD in Physical Education
Tennis player since the age of five
Over 18 years of successful experience in tennis training, tennis coaching and tennis referee in Iran, Toronto, Oshawa, Whitby
Founded Taheri Tennis Academy in 2002 at Homa 5-star hotels (Homa Hotel 1 and Homa Hotel 2) in Mashad, Iran since and have trained over 1500 tennis players aging from 4 to 70!
Head coach of wheelchair tennis team
Building over 25 different types of tennis courts (clay court, hard court and artificial grass)
JUNIOR PROGRAMS
Camps For Kids, Group Lessons, Semi-Private And Private Lessons At ICMTENNIS
For All Levels (Beginner, Intermediate and Advanced)
Covid-19 Pandemic Notice: Group lessons and summer camp cannot be held due to pandemic.


Welcome to ICM Tennis
ICM is a professional tennis Company,that is holding training courses by our experienced coaches. We will enhance your overall skills  by focusing on technical development, tactical training and competitive settings in order to take your game to the next level. Players abilities are evaluated in any level and our coaches ensure that a suitable program that meets your need and will convey our knowledge and in tennis to you and our expertise will bring progress to your abilities.