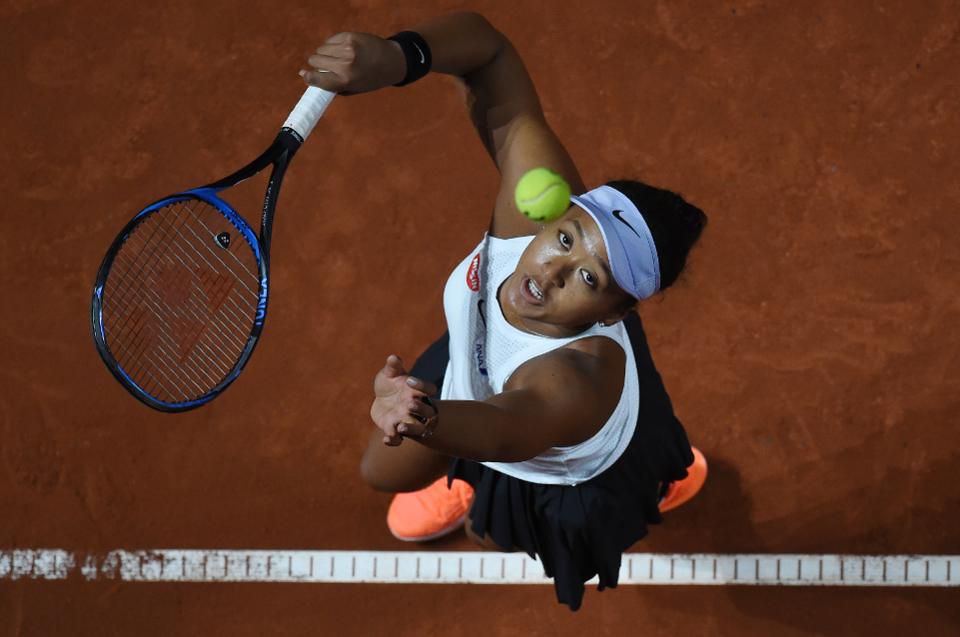 When Naomi Osaka was a 10-year-old tennis player in Florida, her mom, Tamaki Osaka, sent a letter to the Yonex president in Japan asking for product support. Yonex had the U.S. team to take a look at the youngster and the now 21-year-old has been with the brand ever since.
Osaka isn't the only young tennis star to sign with a brand with a 40-year history in tennis. Yonex also has American rising star Frances Tiafoe, Australian Nick Kyrgios and plenty of others: Angelique Kerber, Denis Shapovalov, Stan Wawrinka, Caroline Garcia, Steve Johnson, Genie Bouchard, Anastasija Sevastova, Belinda Bencic and Monica Puig.
Yonex, the Japan-based brand with a square head, uses a mix of technology, aesthetics and junior connections to grab players young and keep them hooked.
In all, Yonex has 16 players in the ATP top 100 and 10 players in the WTA top 50. For the juniors, 30 percent of ATP and 50 percent of WTA top-20 players 21-and-younger use Yonex. At the 2019 Australian Open, 27 percent of the boys' field played with Yonex, compared to the 23 percent each for Wilson and Head. In the girls' draw, 30 percent used Yonex, while 33 percent chose Wilson and 19 percent Babolat.
Signing so many young players is part of the process for Yonex. "It is a combination of players looking for high-quality performance and something different and we are able to foster relationships with them as juniors," says Alyssa Yoneyama, Yonex senior marketing manager. "We match the best product with them as juniors."
From Kyrgios to Osaka to Bouchard, Yonex was the first competitive racket they played with as a junior. "It draws them at a young age and they continue to use it," Yoneyama says.
Part of the plan includes Yonex working with young players before they have become stars. Whether Osaka at 10 years old or, back in the day, with Martina Hingis and Anna Kournikova, Yoneyama says Yonex ensured they worked directly with players to offer hands-on service.
Along with head-to-toe apparel outfitting, Yonex created the Vamos J junior camp program. The exchange-style camp in Japan, Croatia, China and Southeast Asia — and coming soon to the United States — allows juniors to compete in other countries and gain visibility. Borna Coric and Belinda Bencic came through the ranks this way. "It is not just recruiting great talent," Yoneyama says, "but showing them the performance of the product."
And that product has a unique twist: a square racket head.
Yoneyama says Yonex draws athletes with its unique head shape and the Japanese-made craftsmanship. "The shape stood out for me when I was a kid," Kyrgios says. "I liked being different and where I was from, no one was really using a square racket and I really wanted to use it. When I was hitting, I always remember it was an unbelievable backhand racket and I couldn't miss a backhand. The racket grew on me and having success at a young age, going through the junior ranks and becoming a professional, you know when something just works you don't want to change it."
Kyrgios plays with the Yonex EZONE 98, one of the three main performance lines from the brand. Osaka plays with the same. "It gives me the power and comfort I need to play my game," she says in a statement.
The square shape was developed 30 years ago with the idea that the "isometric technology" increases the sweet spot by 7 percent compared to a conventional round shape by optimizing the intersection of the main and cross strings. By making the frame-top flatter, more main strings get lengthened, also improving control.
The EZONE is all about power, using a stronger graphite designed to enhance frame snapback for additional power and ball speed. The most square-shaped head in the brand, the EZONE also has reduced vibration compared to competitors by adding quake shut gel air in the grip to absorb vibration. By offsetting the grommets, instead of being parallel or flush, they also work to absorb additional vibration.
The accentuated isometric shape aims to create an even larger sweet spot, extended in all four corners. Yoneyama says the sweet spot expands equally on all sides.
The VCORE design puts a focus on spin. Using an aero trench design, Yonex sunk the grommets into the trench to reduce air drag and make the frame more aerodynamic. The aero fin design improves airflow where the yoke and shoulders meet, all based on studies of airflow during the swinging motion. "The R&D team created these dimples for the air to flow more fluidly across rather than push, allowing you to swing faster and apply more spin," Yoneyama says. It also creates a slightly thinner frame for more flexibility.
A new graphite in the VCORE, introduced originally in Yonex golf clubs, allows the racket to maintain its flex even at fast speeds. "At faster speeds it flexes, but the snapback is the same," Yoneyama says. "When ripping a forehand, the graphite in the throat of the racket promotes more torque, but you don't lose control or stability. It is doing more work for you and you don't even know it."
Olga Danilovic, the first player born in the 2000s to win a WTA title, uses the EZONE 100, saying at a young age she saw Ana Ivanovic playing with Yonex and liked the way it looked on her. "I tried it, liked it and liked how it looked on me," Danilovic says. "So, that's when I started playing with it and that's when I realized why the rackets are so good."
Danilovic first played with Yonex as a 10-year-old. As did Osaka. And that's the plan for Yonex, a brand looking to grab players young and keep them hooked.
From Forbes.com