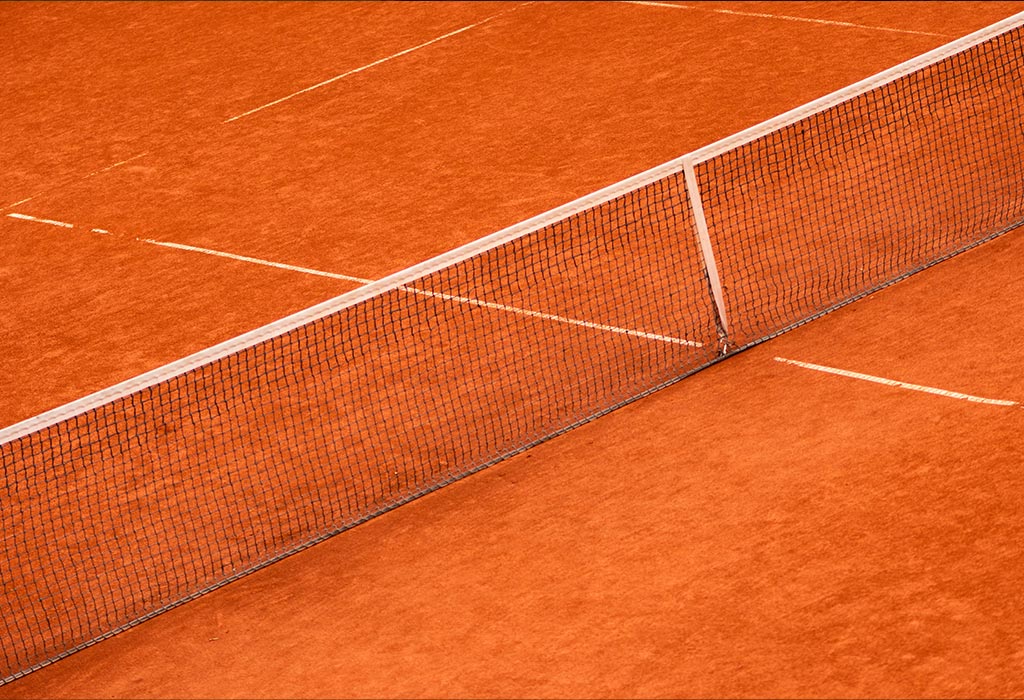 A clay court is a tennis court that has a playing surface made of crushed stone, brick, shale, or other unbound mineral aggregate. The French Open uses clay courts, making it unique among the Grand Slam tournaments. Clay courts are more common in Continental Europe and Latin America than in North America, Asia-Pacific or Britain. Two main types exist: red clay, the more common variety, and green clay, also known as "rubico", which is a harder surface. Although less expensive to construct than other types of tennis courts, the maintenance costs of clay are high as the surface must be rolled to preserve flatness.
play
Clay courts are considered "slow" because the balls bounce relatively high and lose much of their initial speed when contacting the surface, making it more difficult for a player to deliver an unreturnable shot. Points are usually longer as there are fewer winners. Therefore, clay courts heavily favor baseliners who are consistent and have a strong defensive game, which has allowed players such as Rafael Nadal, Björn Borg, Chris Evert, and Justine Henin to find success at the French Open. Players who excel on clay courts but struggle to replicate the same form on fast courts are known as clay-court specialists. Clay-court players generally play in a semicircle about 1.5 to 3 metres (5 to 10 feet) behind the baseline. Clay courts favor the "full western grip" for more topspin. Clay court players use topspins to throw off their opponents.
Movement on the loose surface is very different from movement on any other surface. Playing on clay often involves the ability to slide into the ball during the stroke, as opposed to running and stopping like on a hard or grass court.
Clay courts are unique in that the ball bounce leaves an impression in the ground, which can help determine whether a shot was in or out. Critics of red clay courts point to the constant need to wet them down, problems renewing the surface if it dries out, and the damage caused to clothing and footwear through stains. All clay courts, not just red clay, tend to cause a build-up of clay on the bottom of the shoes of the players, needing frequent removal.
Variants
Red clay
Almost all red clay courts are made not of natural clay but of crushed brick that is packed to make the court, with the top most layers consisting of finely crushed loose particles. Such courts are most common in Europe and Latin America. The exact color of the surface varies with the composition of the bricks used, and can appear from a light yellow to a deep red.En tout cas (French for "in any case") is a version of red clay with a coarser top layer to improve drainage.The coarser surface allows more water to run through the surface of the court drying the surface more quickly after rain.Natural clay courts are rare because this type of surface does not absorb water easily and takes two to three days to dry. A good example of natural red clay can be seen at the Frick Park Clay Courts in Pittsburgh, a public facility of six red clay courts that has been in continual use since 1930.
green clay
Green clay, also known by the brand names Rubico and Har-Tru, is similar to coarse red clay, but is made from crushed metabasalt rather than brick, making the surface slightly harder and faster. Green clay is packed to make the subsurface. It is then covered with a topping. These courts are located primarily in the eastern and southern United States. They are also found in Central and Eastern Canada. There is one WTA tournament played on green Har-Tru clay courts, the Charleston Open in Charleston, South Carolina. From 1975 until 1977, the US Open was played on Har-Tru clay courts.
Photo by Vladimir Tomić on Unsplash
source: wikipedia