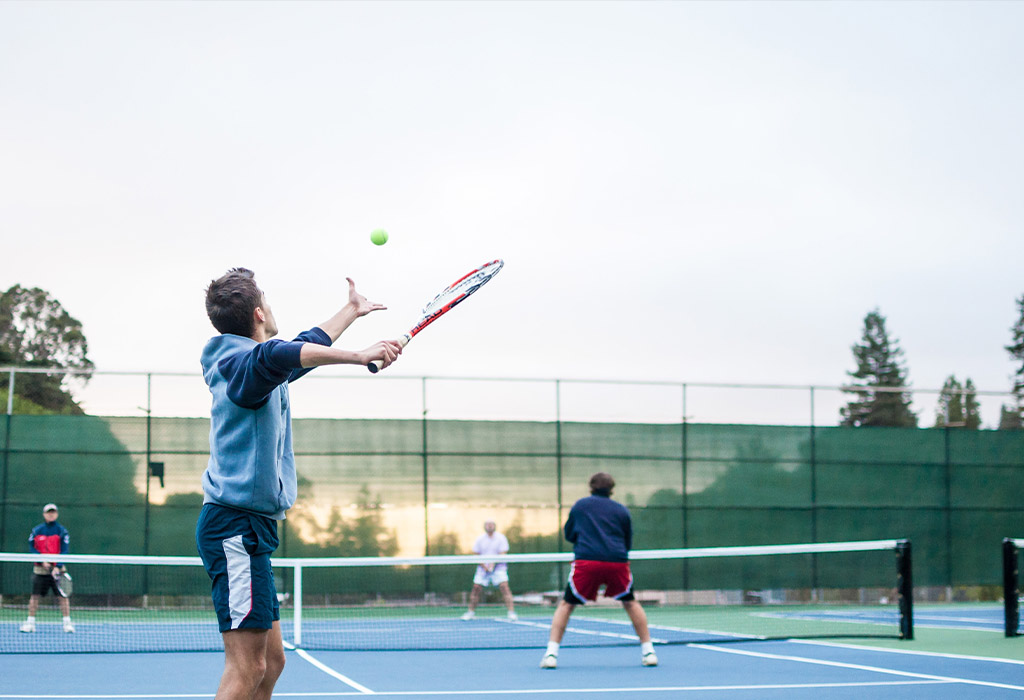 A serve (or, more formally, a service) in tennis is a shot to start a point. A player will hit the ball with a racquet so it will fall into the diagonally opposite service box without being stopped by the net. Normally players begin a serve by tossing the ball into the air and hitting it (usually near the highest point of the toss). The ball can only touch the net on a return and will be considered good if it falls on the opposite side. If the ball contacts the net on the serve but then proceeds to the proper service box, it is called a let; this is not a legal serve in the major tours (but see below) although it is also not a fault. Players normally serve overhead, however serving underhand is allowed.The serve is the only shot a player can take their time to set up instead of having to react to an opponent's shot. But as of 2012, there is a 25-second limit to be allowed between points.
The serve is one of the most difficult shots for a novice, but once mastered it can be a considerable advantage. Advanced players can hit the serve in many different ways and often use it as an offensive weapon to gain an advantage in the point or to win it outright. Because of this, players above beginner level are expected to win most of their service games, and the ability to break an opponent's serve plays a crucial role in a match.
For any serve, the server stands behind the baseline without touching it. For the first point of any game, the server stands to the right of the center point of the baseline and serves diagonally across the net to the left side (from the server's perspective) of the court, into the service box which extends to the service line about midway into the opponent's court. For the second point of the game, the serve is diagonally from the left to the right side of the court, and for each subsequent point of the same game the positioning is the opposite of that on the previous point.
Photo by Julian Schiemann on Unsplash
source: wikipedia